Welcome to Samurai Games wiki!
Samurai Games wiki who everyone can edit about there favorite:
Samurai game, charecters, levels and other.
If you are new to this wiki when editing or creating a new article
please always follow this wiki's style.
Featured Game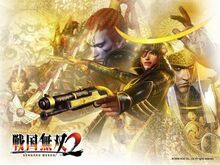 Samurai Warriors
Samurai Warriors or Sengoku Musou is the second franchise of Warriors games created by Omega Force set in feudal Japan.
Ad blocker interference detected!
Wikia is a free-to-use site that makes money from advertising. We have a modified experience for viewers using ad blockers

Wikia is not accessible if you've made further modifications. Remove the custom ad blocker rule(s) and the page will load as expected.